Price

RM25.90

Brand
ORADEX
Reward Points
26
Points Needed

5180

Availability
In Stock
Quantity
Description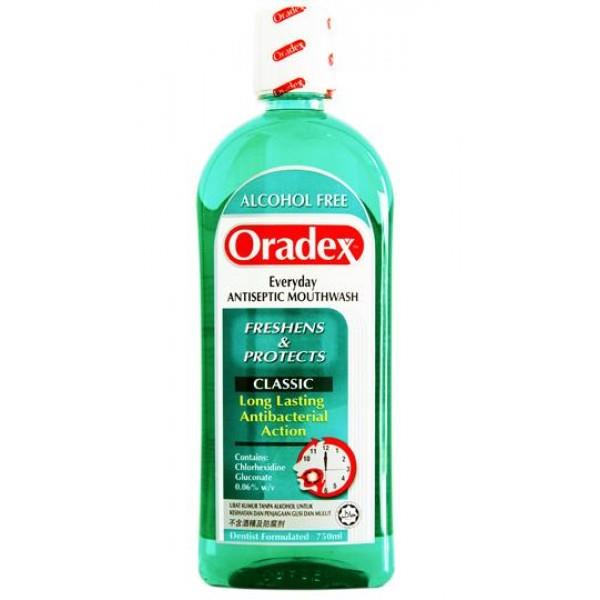 [MPLUS] ORADEX Everyday Mouthwash 750ml
Periodontal disease has overtaken dental caries as the main cause of tooth loss and can affect overall health. Without good gum health you cannot have good general health.
Product Features
Chlorhexidine mouthwashes is the #1 dentist recommended rinse proven effective against micro-organisms in the mouth. It is a broad-spectrum "Gold Standard" oral antiseptic effective against bacteria, yeasts, fungi, some protozoa, algae and viruses. Chlorhexidine has a high intrinsic efficacy and a prolonged "residual" action. Oradex Everyday Mouthwash contains 0.06% Chlorhexidine Gluconate and is both alcohol and paraben free. It is the preferred choice for regular daily use to help prevent and treat early gum disease and bleeding gums when tooth brushing.
Uses & Benefits
Tooth & Gum Protection

Mouth & Throat Discomfort

Halitosis or Bad Breath

Orthodontic Care

Suitable for all ages and those sensitive to alcohol.

User-friendly, pleasant and soothing to the mouth without the side-effects of alcohol
Disclaimer:
While MPlus strives to ensure the accuracy of its product images and information, some manufacturing changes to packaging and/or ingredients may be pending updates on our site. Although items may occasionally ship with alternate packaging, product originality is always guaranteed. We recommend that you read labels, warnings, and directions of all products before use and not rely solely on the information provided by MPlus.
Reviews (1)
view all
back