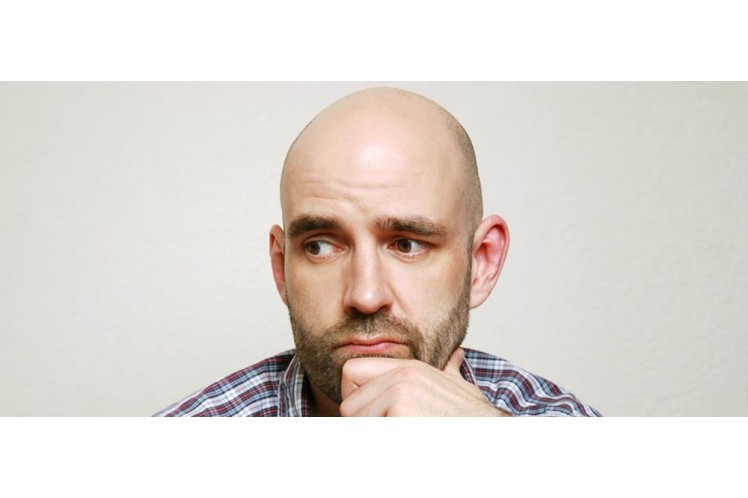 A balding crown.
What to do about it?
A balding crown is one of the most common and recognisable signs of Male Pattern Baldness (MPB) – or androgenetic alopecia, as it is medically known. This is a condition that many men experience – at any age, which means that you're aging and as a result your body is less and less able to replenish your hair. In time, you will likely lose more hair and maybe even go bald. Despite the association with elderly men, this most common type of hair loss can affect anyone at any age.
How to spot a balding crown?
Hair loss at the crown
It's in the most difficult place to see. However, hair loss precisely at the vertex of your head is one of the earliest signs of MPB. You might not notice anything changed elsewhere, with the hair on the sides and back of your head exactly the same as before.
Thinning hair
Hair loss does not have to be limited to one area. In reality, when it comes to MPB, you may notice a general decrease in the density of your hair. This time it will start at the crown of your head, leaving the back unaffected, and spread to the hairline. You may notice that when the hair coverage becomes less dense, the hair quality changes too. Individual hairs in the affected area may become brittle and wiry.
The receding hairline
Like all of the other signs of hair loss, though, it can be hard to be sure whether your hairline is receding or not. Comparing yourself to an older photo of yourself in the mirror will help you determine how much your hairline has changed.
What causes the balding crown?
A balding crown, and male pattern baldness, tend to be caused by the hormone dihydrotestosterone (DHT). This is what causes the development of male traits like a deeper voice and more body hair.
But DHT may lead to problems when it adheres to androgen receptors in hair follicles on scalp and causes them to shrink. New hairs will be finer and more prone to shedding. Male pattern baldness (MPB) is typically genetic inherited from the paternal or maternal side, therefore if either (or both) of your parents have thinning hair, you may probably experience it too.
How to treat and stop it from spreading?
Use a quality hair care product. Avoiding the ingredients such as sulfates, formaldehyde, alcohol, and polyethylene glycol may save your hairs from dries out and worsen your hair. Try using products that contain natural or organic ingredients to reduce the number of synthetic substances that interrupt your scalp and hair condition.
Groom your hair with care. You may ask the barber to recommend a cut or styling that capable of hiding your bald spot.
Regrow your hair with medication. Certain medications may help regrow your hair such as minoxidil, which is a topical treatment applied on scalp or finasteride, an oral medication that reduces DHT levels in the body to stimulate hair growth.
Have a hair treatment. You may try a hair transplant which is the most effective way to restore hair in your crown or any areas that affected.
Recommend Products:
ORA ORGANIC Be-You-Tiful Beauty Vitamins for Hair and Skin 60's
WELEDA Revitalising Hair Tonic
SHEA TERRA ORGANICS Egyptian Black Castor Oil
SHEA TERRA ORGANICS Egyptian Black Castor & Carrot Seed Natural Shampoo